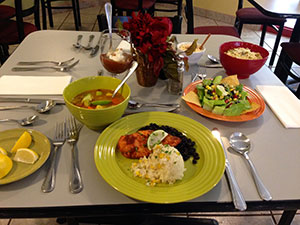 100 West Café is a food laboratory for students in our HRTM 363 and 413 classes.
We offer fixed-price lunches on Wednesdays and Friday from 12:00 to 1:00 PM beginning March 1st. The meals are $15 per person for your choice of soup or salad, entrée, dessert, and iced tea, water, or coffee. There are always vegetarian items available. Please note that menu items may change from those listed on the website due to availability/supply chain issues.
We provide inside dining and carryout services. Due to our limited seating, we highly recommend making reservations. Reservations and pre-orders for carryout are taken on lunch days starting at 9 AM. For reservations or carryout services, please call 575-646-5805.
While we appreciate your support of our program, we ask that you not tip the students. However, if you would like to make a donation to the program, please see someone in the HRTM office.
Spring 2023 Dates
For the Spring 2023 semester, lunches will be served Wednesdays and Friday, March 1st to May 5th. Each week, the meals have a different theme. Below are the themes and menus for this semester.
Click on theme title below for menu details.  More menus and details coming soon.

| Date | Theme |
| --- | --- |
| March 1st & 3rd | New Mexican |
| March 8th & 10th | Asian |
| March 15th & 17th | Closed for Spring Break |
| March 22nd & 24th | Greek/Mediterranean |
| March 29th & 31st | Southern |
| April 5th | Italian |
| April 7th | *Closed for Spring Holiday* |
| April 12th & 14th | Around the World |
| April 19th & 21st | Student Choice Menu |
| April 26th & 28th | Student Choice Menu |
| May 3rd & 5th | Student Choice Menu |
School of Hotel, Restaurant and Tourism Management
PO Box 30003
MSC 3HRTM
Las Cruces, NM 88003
Phone: 575-646-7324
Fax: 575-646-8100
Email: hrtm@nmsu.edu
URL: http://hrtm.nmsu.edu